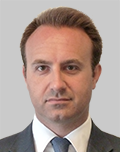 Founder and President of Ceres
Vivien de Gunzburg is the Founder, President, and Managing Partner of Ceres Infrastructure Asset Management LLC, the manager of Ceres Infrastructure Private Debt Fund. Based in the U.S., the fund is dedicated to providing and structuring long-term financings for the renovation of large core infrastructure assets in the U.S.
Prior to Ceres, in 2003 Mr. de Gunzburg established the Findercod group in the UK, Belgium, and France. Findercod provides advisory services in the areas corporate finance (including solutions to corporates such as project-based long-term (re)financing), private equity, and asset management.
Prior to founding Findercod, in 2002, Mr. de Gunzburg participated to the creation of Stephens Financial Group ("SFG") the NY based arm of Stephens Group. SFG was tasked with large-cap mergers and acquisitions. Mr. de Gunzburg served as Vice President in the M&A advisory practice, covering clients in the industrial, aerospace, homeland security, and life sciences areas. He was involved in the $13.4bn merger of Northrop Grumman &TRW and the simultaneous sale of TRW Automotive to The Blackstone Group for $4.7bn. He was also involved in the origination and analysis of private equity investment opportunities for the Stephens Group. The Stephens family of Little Rock (AK), is one of America's families with a long history of investing, operating, banking and political involvement and known to have managed the IPO of Walmart.
From 1998 to 2002, Mr. de Gunzburg held various positions within the Banking Group of Lazard Frères & Co. LLC (now Lazard) in New York. In 2001, Mr. de Gunzburg was a Senior Associate tasked to work with Lazard's rain maker Ambassador Felix Rohatyn in the creation of Rohatyn Associates. During his tenure at Rohatyn Associates Mr. de Gunzburg helped originate deals for clients such as Comcast (leading to the $72bn merger of Comcast with AT&T, and HSBC's acquisition of Household International for $16bn), Suez, Sodexo, LVMH, Publicis, Fiat, Fimalac, United Technologies, and Pfizer. Prior to working with Ambassador Rohatyn, in 2000, Mr. de Gunzburg was an Associate in the Industrial and Retail Group at Lazard. From 1998 to 2000, Mr. de Gunzburg was an Analyst in the Lazard Life Sciences Group, working for Kenneth Jacobs, currently worldwide Chairman of Lazard. His transactions experience during that time included Pfizer's hostile acquisition of pharmaceutical Warner-Lambert for $116 bn and simultaneous divestiture of lice treatment Rid to Bayer for $85 million (2001); the sale of engineered nutrition food MET-Rx to Rexall Sundown for $106 million (2000); Hoechst and Rhône-Poulenc merger-of-equals into Aventis for $45bn (1999);which later was merged with Sanofi, and the sale of the remaining 80% of Pioneer Hi-Bred to DuPont for $7.7bn (1999).
Prior to joining Lazard, in 1997 Mr. de Gunzburg joined Rothschild & Cie. Paris as an Analyst in the M&A department where he advised clients in the industrial, financial, real-estate and technology sectors. In 1995 and 1996, he worked at Société Générale as an analyst in the Credit department both in Madrid and in Hong Kong. In 1994 Mr. de Gunzburg worked at Sanofi Beauté in Barcelona. In 1993, Mr de Gunzburg worked at Republic New York Corporation (Republic National Bank and Safra Bank) in the Mergers and Acquisitions department in New York.
A French and Belgian national, Mr. de Gunzburg received a MSc. in financial engineering from E.S.L.S.C.A. and a BA with honors from the Institut Supérieur de Gestion in Paris. Mr. de Gunzburg is fluent in French, English and Spanish and has notions of Japanese, Russian and German.  He is a Young Leader (class French President Emmanuel Macron) and member of the Board of Directors of the French-American Foundation in France, the founder and President of the de Gunzburg Myeloma Research Foundation (DGMRF) in the U.S., a Member of the Executive Committee and Treasurer of French Foundation for the Research on Myeloma and Gammopathy (FFRMG) in France, Vice-President of ORT Belgium, Board Member of ORT France, Member of the Educative Committee of Terra Sancta Museum in Jerusalem, Vice President and member of the General Committee of The Travellers club in France.