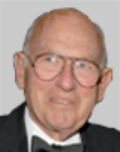 Ambassador James G. Lowenstein
Ambassador Lowenstein was a Senior Advisor of Ceres Infrastructure Asset Management LLC since March 2019 until his passing in January 2023.
Mr. Lowenstein was a Senior Advisor of Findercod since 2004.

Mr. Lowenstein was also Chairman of the Ukraine fund limited, member of the Council on Foreign Relations, member of the Council on Foreign Relations and of the International Institute for Strategic Studies (London), Institut Français des Relations Internationales (Paris), Co-Founder and member of the Board of the French-American Foundation France and US.
Chairman of the Board, Baltic Investments S.A. Investment Review Committee, Emerging Eastern Europe Fund; Advisory Board : Foreign and Colonial American Major Companies Fund; Director, AIS Worldwide Fund Ltd; Trustee, Lafarge (US) Holdings Trust Member, Senior Consultant, APCO Associates, Washington, DC; Advisory Councils : School of Advanced International Studies and Bologna (Italy); Center of the Johns Hopkins University.
Board Member : Refugees International. International Observer Group to observe the 1993 and 1994 elections in Sri Lanka. Senior Elections Adviser to Head of OSCE Mission to Bosnia Herzegovina (1996-1997).
Ambassador to Luxembourg, 1977-1981.
Principal Deputy Assistant Secretary of State for European Affairs, 1974-1977 with responsibility for NATO, EC, CSCE, OECD. Member of delegations to NATO and OECD Ministerial meetings, U.S. European Community consultations, European Parliament committees.
Staff, Senate Foreign Relations Committee, 1965-1974. Senior staff member, Subcommittees on Far Eastern Affairs, European Affairs, Arms Control and Security Agreements. Co-author of published Committee investigative staff reports on Vietnam, Cambodia, Laos, Thailand, Korea, the Philippines, Greece and European security issues. Member of Delegation, Asian Development Bank Charter Drafting Conference.
Between 1956 and 1964 Appointed Foreign Service Officer. Political Officer, American Embassy, Colombo, Ceylon; Eastern European area and Serbo-Croatian language training; Political Officer, American Embassy, Belgrade, Yugoslavia.
Mr. Lowenstein entered government service with the Economic Cooperation Administration (Marshall Plan), 1950-51. He served in Paris at the Office of the Special Representative in Europe (Marshall Plan European headquarters).
Ensign, Lieutenant (j.g.) USNR 1952-55. James Lowenstein served aboard USS Coral Sea in the Mediterranean as division officer and on the Naval War College staff.